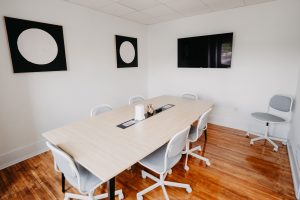 We're proud to introduce the newest addition to downtown Bryan, Ohio: The Den! The Den is a coworking club located above Cove Interiors + Salon on the west side of Bryan's historic courthouse square.
This newly renovated location is designed to help entrepreneurs, freelancers, businesses and remote workers thrive. The Den features loads of natural light, high-speed internet, comfortable furnishings, and plenty of creative vibes.
Visitors to Bryan looking for a productive space for remote work will find flexible day pass & membership options. The Den is also a great fit for businesses in need of a place to collaborate for the day, solo workers who benefit from being in a team environment, and start-ups.
After the workweek wraps, The Den can host your event, occasion or workshop. Learn more about renting out the entire space.
This stylish space offers:
Private offices
Coworking space
Conference room
Community kitchenette, lounge space and restroom
Take a virtual tour on The Den's website, then schedule an in-person tour of your own.